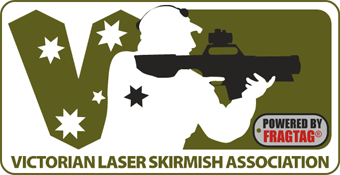 The Victorian Laser Skirmish Association (VLSA) is a not-for-profit association that organises extended duration
skirmish events for the hardcore laser skirmish enthusiast.
Laser skirmish, also known as laser tag, is a sport involving opposing teams who simulate military style combat through the use of non-projectile-firing infra-red electronic taggers.
The VLSA is powered by FragTag Advanced Combat Simulation Systems, providing variable damage and weapon modeling, extensive game customization, and a multitude of simulation accessories. Currently our skirmish events run approximately every 6-8 weeks, on a Saturday from 9am to 5pm, within 1-2 hours of Melbourne.
The VLSA Commitee is made up of individuals from Geelong, Melbourne and Ballarat. We hold an Annual General Meeting once a year.
All game fees are put back into the VLSA to buy new gear to further enhance the experience we can provide.
Contact Email: thevlsainc@gmail.com